MISSISSIPPI STATE
VS.
ALABAMA
Saturday, September 30
Gates Open: 5:45 p.m.
Kickoff: 8:00 p.m.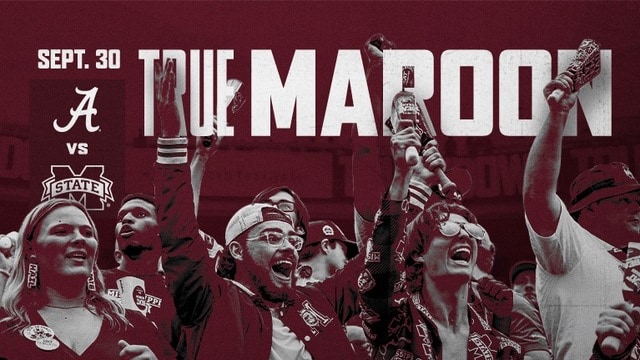 ---
FRIDAY SERVICING INFORMATION
When? Servicing will be held Friday from 4:00 p.m. to 8:00 p.m. Absolutely no servicing will be allowed on game day.
Where Do I Enter? For servicing, you should enter the stadium at Gate F located on the northwest corner of the stadium. We will have staff located at Gate F, on the northwest elevators, and on the 300 Level to assist you with directions or any questions that you may have.
Where Do I Park? For servicing, you should park in the Barnes & Noble parking lot located on the west side of the stadium. Please do not pull up to Gate F or any other "No Parking" zones. Everyone must park in the lot and walk across the street.
What Can I Bring in for Servicing? Please see the comprehensive Prohibited/Approved Items List below. If you have any questions about these items or any items listed, please contact the Bulldog Suites Office at (662) 325-2291 or

[email protected]

.

Should I Secure My Items When I Leave Servicing? Yes! Please use the provided coated cable and padlock to secure all patio furniture or other items by looping the coated cable through the balcony drink rail and through your items.
Can I Get Ice During Servicing? Absolutely! Each balcony is provided two complimentary bags of ice per game which are redeemable by using the ice vouchers available for pickup during servicing or on game day. The ice stand is located in the center of the 300 Level and will be open on Fridays from 4:00 p.m. until 8:00 p.m. and on game day. See "Ice Vouchers Information" for more information regarding voucher pickup locations and ice stand hours on game day.
Should I Bring My Own Cart or Hand Truck? Yes! While we have limited wagons available during service, we still recommend bringing your own with you.
Each balcony will be provided two complimentary 20 lb bags of ice per home game. Each balcony holder or designated individual can pick up ice vouchers with the Bulldog Suites staff in The Balconies area during servicing or on game day.

Ice vouchers are redeemable at the ice stand either on Fridays prior to game days during Servicing (4:00 p.m. to 8:00 p.m.) OR on game day (from gates opening until the end of the 3rd quarter).

Ice can be redeemed with the vouchers or purchased at the ice stand located in the middle of the 300 Level.

Additional bags of ice are available for purchase for $6.99 per 20 lb bag.
Balcony holders are encouraged to use Gate A on the southeast corner of the stadium. It is recommended that balcony holders do not utilize Gate F when entering the stadium on game day. Gate F is used as the Student Gate on game day.

Once inside the stadium, balcony holders may utilize either the southwest or northwest ramps or elevators to access the 300 Level. Balconies in Sections 301 and 302 are located on the south end of the 300 Level, and balconies in Sections 312 and 313 are located on north end of the 300 Level.

All patrons, regardless of age, must present a valid Balconies ticket to enter The Balconies area. Tickets are not transferable from one person to the next. Wristbands will be issued upon the first entry into The Balconies area and must be shown for re-entry if guests decide to leave the area and return during the game.
All patrons, regardless of age, are required to present a valid ticket to enter the stadium.
NO re-entry into the stadium is permitted without an unused ticket.
Need Assistance on Game Day? Locate one of our Bulldog Suites FANgineers positioned throughout the Balconies area or in 302-B2 and 312-B2 for assistance.
If I Preordered Catering, When Can I Expect that Order to be Delivered? If you pre-ordered catering to be delivered to your balcony, you can expect it to be delivered between 6:45 pm to 7:15 pm.
What Do I Need to do in the Event of Severe Weather? In the event of severe weather, please secure any items that could fly away using the coated cable and padlock provided to you securing it to the drink rail in your balcony. Follow directions over the PA system regarding shelter instructions.
Clear Bag Policy: All patrons should adhere to stadium's Clear Bag Policy. See below for a link with details.
Non-Smoking Campus: The campus of Mississippi State, including Davis Wade Stadium and all premium areas, are non-smoking areas. Security personnel will be patrolling all areas including ramps and balconies.
Ice Stand Hours

Friday Servicing: 4:00 p.m. to 8:00 p.m.

Game Day: Gates Opening until the End of the 3rd Quarter

Ice Vouchers Pickup: Ice vouchers for each game can be picked up from Bulldog Suites staff in The Balconies area during Servicing or on game day.

McKinnon Skeen
Hospitality Manager

Phone: (662) 719-9939
Email: [email protected]

www.bulldogsuites.com