MISSISSIPPI STATE
VS.
ALABAMA
Saturday, September 30
Gates Open: 5:45 p.m.
Kickoff: 8:00 p.m.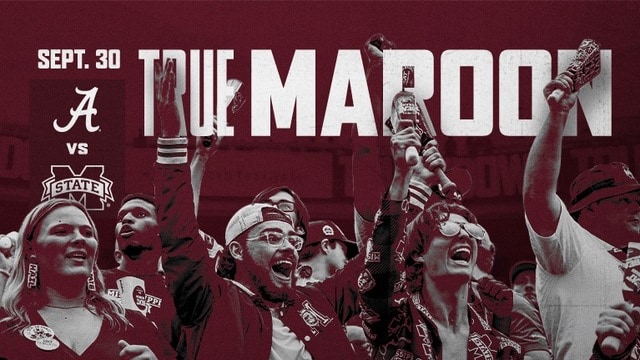 ---
FRIDAY SERVICING INFORMATION
When? Servicing will be held Friday from 4:00 p.m. to 8:00 p.m. Absolutely no servicing will be allowed on game day.
Where Do I Enter? For servicing, you should enter the stadium at Gate H located on the northeast corner of the stadium. We will have staff located at Gate H and on the concourse to assist you with directions or any questions that you may have.
Where Do I Park? For servicing, you should park in the Barnes & Noble parking lot or any of the surrounding lots. Please DO NOT PARK in the "No Parking" zones in front of the loading dock on the north end of the stadium, on Barr Avenue, or on the curb of Barr Avenue or you may be towed.
As a reminder, we will not provide ice during servicing times, and no ice should be left in soft-sided coolers overnight.
Club members may enter the stadium via Gate I as in "ice" located on the east side of the stadium.

All patrons, regardless of age, are required to present a valid ticket to enter the stadium.
NO re-entry onto the stadium is permitted without an unused ticket.
All patrons, regardless of age, are required to present a valid ticket to enter the club level. Wristbands will be issued only if you choose to leave the club and wish to return later in the game.
Club Bar Seating is not open seating. Please do not remove seats from the glass-top bar against the windows looking out onto the field. These seats are ticketed seats and have been purchased by club level members as their game day ticketed seat.

We kindly ask that each club member be mindful of others and limit the amount of time at lounge seating, especially during high volume times such as pre-game and half-time.

Clear Bag Policy: All patrons should adhere to stadium's Clear Bag Policy. See below for a link with details.
Non-Smoking Campus: The campus of Mississippi State, including Davis Wade Stadium and all premium areas, are non-smoking areas. Security personnel will be patrolling all areas including ramps and balconies.

In order to preserve an environment that is enjoyable to all guests, parents or guardians are expected to be in a position to provide adequate supervision of their children at all times.

Please Note: The double doors on the north end of the club that lead to the Scoreboard Terrace is a service entrance only to be used by credentialed staff, catering staff, and other game day staff, or in the event of an emergency, it may be used as an exit. Patrons are not permitted to use this path as an entry to the Scoreboard Club terrace or to access other areas of the stadium.